The temps are on the way up — again. This is a multi-day warmup with more records in jeopardy by the end of the week.
Tuesday essentially starts the trend. Highs leap back to 50 degrees — which we saw on Sunday — as the westerly wind moves out any leftover morning clouds. The air behind this system isn't really cold at all (stop me if you've heard that one before), and full sun will get us 10 to 11 degrees above our normal high of 39 degrees for this Valentine's Day.
We're pushing the numbers even higher for Wednesday. South winds should boost us into the mid and upper 50s with an increasingly milder air mass moving in. It's Thursday and Friday that push us to record territory with these same southwest winds. In these setups, we can expect the Cape/Islands/Buzzards Bay to be in the cooler 40s, as chilly ocean waters temper some of the mild air. The vulnerable record high temperatures are 60 and 61 for Boston, and 62 and 59 for Worcester. Those last two record highs were set only last year!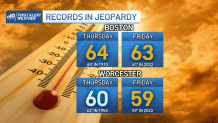 Rain will swarm over the area in that mild air by Friday, with a quick exit and crashing temps Friday afternoon/evening. We have a one-day drop on Saturday, with another renewed push of mild air to finish the weekend.