The big issue Monday morning isn't the snow or rain. It's the ice. "Warm" air moved in overhead about 5,000 feet last night, but at the same time, the temperatures near the ground stayed near freezing. It's a perfect recipe for sleet and freezing rain, and it's promising to make for tricky travel, delays and slippery walkways Monday. We're waiting on the colder air to swoop in around noon to switch us to all snow right down to the South Shore.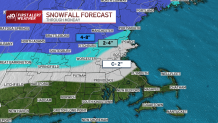 How Much Snow Will Accumulate?
However, by then, it may be too little, too late to get a lot on the ground. The storm will be passing to the east and temperature will be right around freezing. As we learned from the last storm, it could snow all afternoon and we won't have much to show for it.
More Coastal Flooding Possible
We'll watch the noontime high tide for more coastal flooding. Thanks to VERY high astronomical high tides this month, we have been battling each high tide cycle since Friday. Thankfully with this storm, the wind isn't howling from the east, but rather coming from the north later Monday.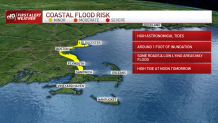 The storm will completely wrap by evening, with temperatures dipping below freezing overnight. Once again, there may be some slick spots with the refreeze. Otherwise, we're melting on Tuesday as we gear up for the next round of storminess on Wednesday.
School Closings
Monday's shot of wintry weather has led to dozens of school district closings, including over 40 in the Boston area.
Some school districts in New Hampshire have opted for remote learning on Monday.
A complete list of school closings across New England is kept here.
Crashes Reported Overnight
Crashes were reported overnight in Wakefield, Massachusetts, and across New Hampshire as a result of slick roadways.
There was no immediate word on whether anyone was injured, but motorists are being urged to take it slow.
More Winter Weather Coming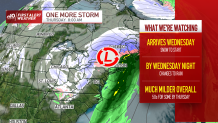 This round of wintry weather will be short-lived as the storm is trending warmer overall. We could see a burst of snow late Wednesday before changeover, but with so much warm air in the pipeline, we're likely to see temps rise through the night. The end result will be mild temperatures for Thursday as highs leap in to the 50s!