Light snow fell across Cape Cod and southeastern Massachusetts Wednesday morning, and set down coatings to around 1 inch of snow for some. The snow is gone in the afternoon and we are left with partly cloudy skies and cold temperatures. Highs Wednesday will be stuck in the 20s to low 30s with most spots not even hitting freezing. This is just a tease compared to what is coming for Saturday.
Our weather remains quiet Wednesday night as temperatures drop to the teens and 20s again. Black ice may make roads slick for Thursday morning's commute. High temps rebound a bit to the upper 30s as our wind direction shifts slightly from the southwest and we see more sun.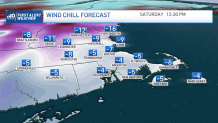 When Does the Frigid Air Arrive in New England?
An arctic cold front heads in Thursday night into Friday from the northwest and this opens the door to bitter cold. As the front moves through New England we may see a couple snow showers in northern New England, but overall we remain dry and windy.
Temps fall gradually Friday from the upper 20s to the low 20s. And our temps continue to plummet to below zero by Saturday morning. As the wind remains persistent across the ocean from the northwest there will be lots of ocean-effect snow showers nearby, but most of it develops away from our coast. Our meteorologists have issued a First Alert for Friday and Saturday.
How Cold Will It Get in New England?
The exception may be the outer Cape Saturday as the wind moves northwest across Cape Cod Bay. As for our temperatures, we will be below zero in southern New England, and -10 to -30 in northern New England. With the gusty northwest wind, the wind chill will be very dangerous. Northern New England will feel like -40 to -55. Southern New England, and Boston, will feel like -30. Frost bite can set in in 10 to 15 minutes or less with these extreme numbers. And even record wind chills are expected in the crown of Maine. Caribou's record is a wind chill of -59 set in 1951. High temps only reach the single digits and teens for Saturday, with wind chills -10 to -1.
Wind Chill Warnings are in effect for all of Vermont and Wind Chill Watches for all of Massachusetts. This is the first time this alert has been issued in the area in nearly 400 days.
Keep in mind that this kind fo cold can be life-threatening.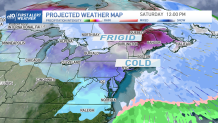 This cold snap is just one day only. Temps soar to around 40 degrees by Sunday. And more mild air is forecast for next week as temps stay in the 40s through the 10-day. A couple systems pass through, one on Wednesday, and another next Friday, bringing us rain, not snow.