Every weekend since late February has brought at least a trace of rain. For those keeping score, that's eight of nine weekends with wet weather. While it was beneficial, it still left us in a nearly 2" rainfall deficit - until this past weekend. Widespread rain throughout Saturday and Sunday delivered drought-denting rainfall. It even led to river flooding in Maine.
Across the Commonwealth, weekend rainfall totals ranged between 3 and 4". Although, the climate site at Boston Logan walked away just shy of 2" of rainfall.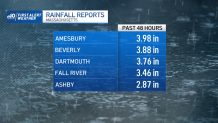 That's enough to bring the city's seasonal total (7.4") much closer to the norm of at 7.8". Due to the slower nature of the rainfall, and overall footprint of widespread showers, we'll likely see the removal of "abnormally dry" conditions from the upcoming Drought Monitor.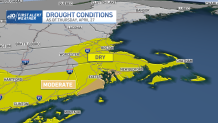 The latest, issued Thursday, April 27, showed dry conditions across 53% of Massachusetts, and Southern New England's coastline. The drought monitor observes rainfall Tuesday to Tuesday, with published results every Thursday.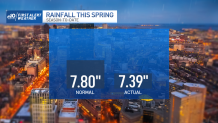 While we're in store for more rain from Tuesday to Thursday, the rain shouldn't be as heavy as the weekend's downpours.
Drier skies filter in for Friday and much of the weekend, ultimately bringing our streak of weekend rain. We'll start to see sunshine emerge Friday and Saturday, with highs near 70° by Sunday.