Our spring weather continues for a while, although there is a dramatic shift back to winter for a short time on Saturday.
Friday, we have mostly cloudy skies and a gusty but dry northwest breeze. Highs on Friday are cooler, in the low 50s, but still mild. Friday night, temperatures drop to the 20s and 30s, which would support snow, but we don't have any precipitation moving in at this time.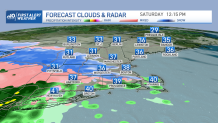 There will also be lots of clouds around for those hoping to catch the Northern Lights. Our sky gave us a spectacular display last night, with some places seeing a clear enough sky to capture the glory of the dancing lights. Some lucky places were in Maine, Long Island, New York, Annapolis, Maryland, South Carolina, the Dakotas, Wisconsin, Michigan, Canada and Oklahoma.
Our solar storm continues to give us a chance for viewing the aurora Friday night and Saturday night before going quiet. There is another possible solar storm forecast and northern lights chance for around March 30 and April 1.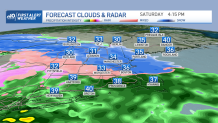 We are dry as we wake up Saturday morning. A wintry mix is approaching from the southwest and Connecticut to western Massachusetts will begin to see a light mix by 9 to 10 a.m. The mix arrives in Boston around noon time. But it will be mostly rain and nothing wintry will stick since road temps are so warm thanks to the strong March sun angle.
Sleet will fall for a few hours outside of I-495 and in higher terrain this may lead to slick spots on the roads, but elevation is the key. Then, in northern New England, we see sleet and snow in the afternoon, switching to some rain late Saturday as the system pushes northeast and pulls some milder air with it.
The snow does pile up in higher elevations and in New Hampshire, Vermont and Massachusetts through Saturday night. Accumulations will be around a couple inches in central to northern Vermont, central to northern New Hampshire, and interior Maine. Around 6 inches of snow is likely in the White Mountains.
The precipitation moves out through Sunday morning, with some lingering mountain snow showers. Gradually we see clearing skies and a gusty west breeze. Highs reach the mid 50s with a return to spring air as we wrap the weekend.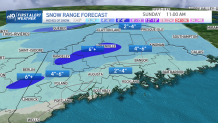 We start the next work week sunny with more temps in the low 50s.
Then a storm system moves through Tuesday into Wednesday. It's a minor system, but the track is something worth watching because we may see a wintry mix with it. There is still a lot of difference in track at this point, so we will update through the weekend.
Next week remains unsettled with a system passing through (or nearby) every couple of days. At least we will see more spring temps as we look to April.