Rain will depart swiftly Thursday morning, but the clouds will take their sweet time. We're still seeing wSOME mild air Thursday (after all it was in the 70s in Pittsburgh Wednesday ahead of this storm system), but we'll fall short of widespread 50s for most. Thursday night will cool off, but the chill is marginally cold for the next storm.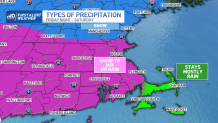 And coming off the fifth warmest winter (December to February) on record in Boston, that should come as no surprise. We'll still see snow at the onset of the next storm, it's just that it should give in to the warming from the east wind (off of water that is 41 degrees) and the warming in the mid-levels of the atmosphere. All told, this doesn't look any more formidable than the last storm, except we are expecting more snow in northern Massachusetts and southern New Hampshire this time around.
When Will the Snow Begin Friday Night in New England?
Snow should break out between 10 p.m. and 12 a.m. in eastern Massachusetts and southern New Hampshire Friday night. The most intense part (if we can even call it that) will be overnight on Friday into Saturday morning. The changeover to mix (and rain) will be closer to the early morning hours of Saturday. Easterly winds will gust along the coast, topping 40 mph in some spots.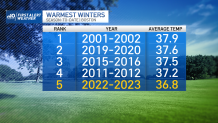 Sunday the storm will be long gone. Sun returns along with the 40s. Ditto for Monday. Other than a weak system Tuesday, much of next week looks quieter as we shut off the pipeline of storms from the West Coast.