A powerful Nor'easter will impact the region beginning later Monday afternoon and evening.
Snow Monday? The precipitation will start and end as snow in interior areas. At the coast, rain begins around dinnertime and becomes heavy through the evening.
Temperatures Monday: Highs in the lower and middle 40s.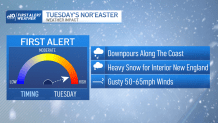 Tuesday forecast: Overnight, rain continues heavily near the coast, while interior areas continue to pile on heavy wet snow. Expect lows in the upper 30s near the water to around freezing inland. Rain will change to snow for all locations throughout the day.
Which commutes are impacted? The worst conditions should coincide with the Tuesday commute home from work. Temperatures will drop into the lower 30s along the coast by evening, allowing snow to accumulate. The interior will drop into the upper 20s as snow continues to fall.
When will snow stop? Snow will wind down early on Wednesday morning, with lingering snow showers into the middle of the day. Peeks of sunshine are possible by the afternoon, and highs will reach around 40.
Wind gusts, flooding: Winds will become gusty at the coastline overnight Monday into Tuesday. Gusty winds are likely to lead to widespread power outages along the coast. Gusts late Tuesday will hit around 60-70 mph on the Cape. Coastal flooding and large surf are a concern as well.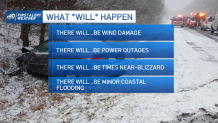 Will schools be closed? Districts make that decision on a case-by-case basis, but Worcester Public Schools already announced it would be closed Tuesday as of Monday afternoon. See an updated list of school closings in our area here.
Snow totals: As much as 1-2 feet of snow will fall well into interior Massachusetts, in areas with elevation. As little as an inch or two of snow is likely towards the Cape and Islands. The city of Boston sees either side of 8 inches of snowfall.
Here's a map of what to expect across New England: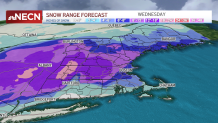 Quieter conditions are likely by Thursday and St. Patrick's Day as temperatures moderate to near 50.