More clouds filter in to start the day in advance of a rainy system on the way. Showers look to be widespread and steady just after midday, for the evening commute.
For those traveling across the country, anticipate delays as another winter storm takes shape across the Front Range of the Rockies and the Gulf Coast. In the warmer sector of air, showers, thunderstorms and severe weather is likely, as snow is expected to the north between Minneapolis, Kansas and Colorado.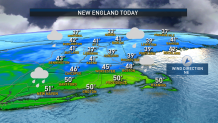 We'll eventually see the chance of ice and snow for New England later this week as temperatures return to seasonable averages. We'll keep warmer than average temperatures through midweek — nearly 20 degrees above average in some spots. Highs Tuesday are near 50 degrees.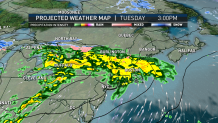 Wednesday is even warmer, as temperatures climb into the upper 50s, to near 60 for some along the South Coast. This airmass is akin to what we'd expect for an early-to-late April time frame. Winds are from the southeast between 15 and 20 miles per hour. With the warmth, enough energy sits in the atmosphere to bring an isolated thunderstorm across the South Coast, Cape & Islands Wednesday night and Thursday morning.
As the atmosphere undergoes changes, colder air modulates for the remainder of the extended outlook. We'll see freezing rain across the mountains down to northern Massachusetts Thursday morning and Thursday with the chance of snow for some on Friday. Unlike the previous weekend, Saturday and Sunday look mostly dry, with highs closer to seasonable average.