The NBC10 Boston weather team is still eyeing extreme cold for Saturday. Leading up to that, we have a bit of snow early on Wednesday for the Cape and Islands. That snow is part of the first cold front to come through the area.
A few slick spots are possible early Wednesday with colder temperatures in the lower 20s to start the day. Any snow south will end by mid-morning and a gusty breeze, with a mix of sun and clouds will persist.
Thursday is partly cloudy and milder ahead of the arctic front. Highs will be in the upper 30's. Friday is cold and windy. Temperatures start the day in the lower 20s and end it around 10 degrees. Windchills will be WELL below zero.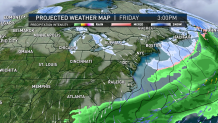 Saturday is a First Alert day, with lows below zero to start the day. Gusty winds make for wind chills of -25 degrees in and around Boston. By afternoon, despite sunshine we warm to the lower and middle teens. Sunday is milder, with a passing snow flurry or shower. Highs will be in the upper 30s.
Monday is partly sunny, and not as cold, with highs in the lower 40s.