It's Opening Day at Fenway!
In recent years, Opening Day has mainly been in the 40s, and this year will be no different. Expect mostly sunny skies, with a gusty breeze. Highs will top out in the lower 40s, but wind chills remain in the 30s all day long.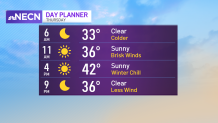 Friday becomes mostly cloudy, rain will arrive later in the day. Highs are in the upper 40s and lower 50s. Saturday starts with a few showers, briefly becomes sunny, and very mild. Then, thunderstorms arrive throughout the afternoon. Highs will be in the lower and possibly middle 60s.
Sunday is much cooler, but sunny. Highs will be in the upper 40s, with a gusty northwest wind feel more like the 30s.
Monday is partly cloudy, mild and pleasant, and highs will be in the upper 50s. Several days near 60 can been be expected throughout next week.
Tuesday is into the lower 60s, but likely features some showers throughout the morning hours. Another chance for rain is on Wednesday, although it looks to be confined to the morning hours as well. Wednesday's highs are in the lower 60s.