New England straddles the line between cold air in eastern Canada and warmth surging up the eastern seaboard over the next couple of days, meaning a sharp divide between daytime highs in the 50s and 30s sets up from far southern to northern New England.
The temperature contrast begins Tuesday, and with a weakening storm center that was responsible for severe weather in the Southeast Monday and Monday night drawing northeast toward New England, rain continues to blossom either side of the temperature divide, right over New England.
As sprinkles and light rain started during the first half of Tuesday, the temperature was still cold enough in central and western New Hampshire into central and southern Vermont for very light freezing rain in spots, creating icy conditions on some roadways, though the bulk of central and southern New England warmed just enough to avoid this. As rain continues to expand and intensify Tuesday afternoon and evening, between half to three-quarters of an inch of rainfall is expected, with the slow but steady feed of milder and more moist air resulting in areas of dense fog from late Tuesday through Tuesday night.
The last showers are expected to exit east of New England Wednesday early morning, leaving cloudy skies behind with occasional sprinkles. A break from steady rain is until another energetic impulse brings it back Wednesday late day and evening through Wednesday night. This time, rather than icy spots on the front end of the rain, it's possible we'll find icy spots on the tail end, as colder air filters southward across New England Thursday morning on a northeast wind, creating some slick spots on wet roads and also resulting in spotty mixed showers of rain, freezing rain and snowflakes.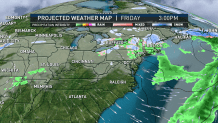 Thursday morning likely won't be the last of the mixed wintry showers, with mixed raindrops and snowflakes expected from a number of showers that pop up Friday, and another round of snow showers possible with yet another follow-up disturbance Saturday – all told, around an inch and a half of precipitation is expected to fall on southern New England with half an inch to an inch in northern New England. The weather should quiet Sunday through early next week, though the new, cooler air will stick around – still a couple of degrees warmer than normal for this time of the year around or just over 40 degrees, but much closer to where we should be than recent days have been with highs near and over 50 degrees.