The First Alert weather team is tracking a late week winter weather system packed with multiple hazards. It's already produced severe weather across the mid-south and is set to reach New England on Thursday evening. While New England isn't expecting severe weather, we are expecting a variety of conditions, from heavy sleet and snow, to downpours of rain – and in multiple phases.
The system starts Thursday evening, as sleet and rain break out across the region around 7 p.m. With the strongest convection arriving just before midnight, thundersleet or thundersnow is likely in Southern New Hampshire and Northern Massachusetts, leading to hefty snowfall rates. The dividing line sets up along Route 2, where areas north see mostly snow, and those south to the Mass Pike pick up sleet. Mostly rain showers settle in for the evening drive in Boston. Rainfall rates through Thursday evening will range from a tenth of an inch per hour, to a quarter of an inch per hour. Downpours with embedded thunder arrives around midnight through Bristol County, the South Coast and Cape, with rainfall rates between a quarter of an inch per hour to half an inch per hour.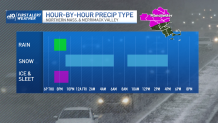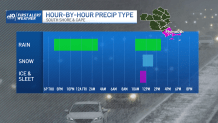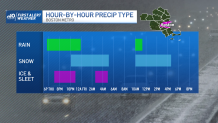 That brings a conclusion to the first round of the storm and should provide time for errands and road treatment crews to get ahead of the incoming snow. The second round or phase looks to be mostly of the wintry variety, with light to moderate snow starting just before noon. This will be marked with the arrival of an upper level feature, and colder air. Snowfall rates should be on the lower end, but steady at times, providing the Boston metro the best chance to accumulate close to 2" of snow. For now, the southward extent of the moderate snow stops across South-Central Worcester County, and cuts northeast into Framingham, north of the Mass Pike and into Northern Essex County, where areas near Lawrence pick up 4-6" of snow. Farther north, totals over 8" are possible.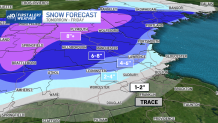 Roads will be slick, Friday evening as the storm exits late in the Friday. Saturday is much quieter, and starting cold with wind chills in the teens and twenties.
Winter weather advisories and winter storm watches have been issued in advance of the storm, and will likely be upgraded as the storm's threats become imminent. The First Alert weather team will continue monitoring developments.