Ocean-effect snow showers woke up residents in southeastern Massachusetts on Saturday while Cape Cod and the Islands have seen rain.
Temperatures Saturday evening will drop, allowing for more of that snow to spread over eastern Mass., possibly bringing some snow over Boston and the North Shore.
Early morning precipitation might continue in the northeast, but as it ends in the east coast, we'll see a low pressure developing west south west allowing more snow to crawl over the Berkshires and much of western New England.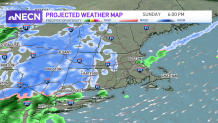 Vermont, western Mass. and Connecticut will be the first to see the snow. That same snow will spread over Worcester County, the Monadnock region and possibly the Merrimack Valley as well as Boston through Rhode Island overnight.
The Massachusetts Turnpike may still wake up to some snow early morning, commute will be difficult and slow.
Monday afternoon brings increasing sun, temperatures reach the upper 30s and we'll keep the cold trend through Tuesday. The next chance for rain and snow will be late next week.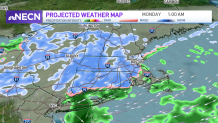 Thursday into Friday will bring our next low, it has shifted south, meaning that most of the wintry precipitation could focus again over western Mass. and Conn.
Our following weekend begins unsettled but has hopes of brightening up as we wrap up our Sunday.