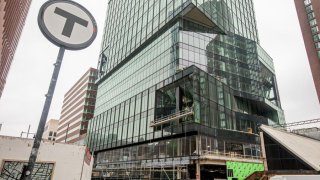 The parent company of Google, which employs thousands of local workers, plans to lay off 12,000 jobs, 6% of its workforce, the Wall Street Journal reported Friday morning.
Alphabet Inc. had 2,100 employees in Massachusetts as of last May when it opened its new Kendall Square offices with a vow to invest more than $75 million in the state by the end of the calendar year and expand its workforce even further.
A spokesperson for Google did not answer questions on the local impact of the cuts.
Its offices at 150 Broadway in Cambridge spans eight floors and 170,000 square feet. The office is a hub for engineering and sales, where engineers contribute to products such as Search, YouTube, Chrome, Android, Image Search, Google Play for Education and Newsstand.
Copyright Boston Business Journal