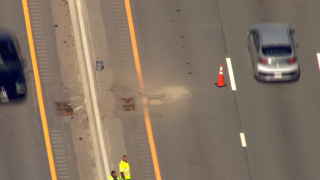 A small sinkhole appeared on the Massachusetts Turnpike Wednesday afternoon in Framingham, police said, closing a lane for several hours.
The sinkhole was on the left lane of the Boston-bound side of I-90 at the 113.8 mile marker, according to the Massachusetts State Police.
Aerial footage showed the hole to be small and rectangular.
Crews with the Massachusetts Department of Transportation patched up the hole and the highway was fully reopened, a department representative said.