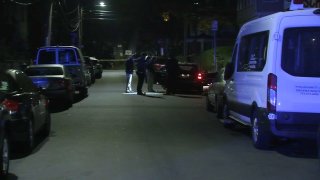 Two people were shot late Sunday night in Boston's Mattapan neighborhood, police said.
Officers responded to 5 Elizabeth Street near Norfolk Street for a reported shooting just before 9:45 p.m. Two people were taken to area hospitals with unspecified injuries, but both victims are expected to survive.
Multiple shell casings were spotted on the ground at the scene of the double shooting, and investigators appeared focused on a car parked near the casings. It's unclear how or if the car was involved in any way.
No arrests have been made, police say.
This is an active and ongoing investigation.