Another round of winter weather is hot on our heels. While this one doesn't promise to bury us in snow, in some cases, it will glaze us in ice.
The fun gets rolling Wednesday evening, as snow spreads out from west to east. We'll switch over to ice (really sleet) closer to midnight as a pocket of above-freezing in around 5,000 feet. If you were to picture the atmosphere from the bottom of the cloud to the ground, you would see the snow fall out of the cloud, and then fall through that above-freezing air and melt. As it continues its freefall, it drops through air that's near freezing again and refreezes. Instead of reverting back to a snowflake, it becomes a sleet pellet. Voila, we have ice.
Eventually, milder air will work in at ground level and we'll switch to rain in the wee hours of Thursday morning. Then we have a pronounced pause in the precipitation. It's about this time that the winds will turn to the north, allowing colder air to infiltrate towns and cities away from the coast. Expect temperatures to fall through the 30s and back into the 20s by Thursday evening. The last round of ice and snow will push through late night Thursday, putting the finishing touches on the event.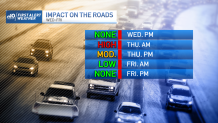 We'll struggle to maintain temps in the upper 30s Friday, but with colder air coming in with gusty winds, the task is futile. Teens and single digits are expected Friday night, and cold sun with highs in the low 20s are expected Saturday.
There's a lot going on with the forecast, so stay with us as we guide you through the storm.