It was a gloomy day Saturday with overcast skies through the late afternoon and evening. Our lows will drop to the upper 20s and lower 30s. Sunday is nice and dry with highs in the lower 40s, NE wind prevails keeping coastal communities a couple degrees cooler.
Our focus is on early next week, when strong wind, heavy snow and rain will reach New England bringing significant accumulation. Higher elevations will see the heaviest snow, but it may also accumulate in eastern Massachusetts before the system finishes Wednesday afternoon.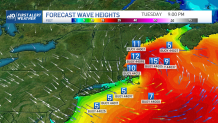 Your First Alert Team will keep tracking Monday's storm as it arrives late in the afternoon but will meander through Wednesday.
Preliminary snowfall amounts may exceed a foot high in central and western Massachusetts through the Berkshires and the Worcester Hills with significant amounts extending into the green and white mountains.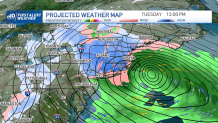 The wind will become one of the main threats, gusts may exceed 50 mph in the outer cape and reach over 40 mph in Boston. This same wind force may be exerted all the way through the Berkshires and the Monadnock Region, where blowing snow may reduce visibility for a while.
The system will push out Wednesday with snow totals in a 8-12 inch range for the hilly areas, over 10 inches in southern Maine and over 4 inches possible in eastern Massachusetts.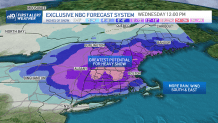 Tranquility returns Thursday with highs in the upper 40s and sunny skies before another round of rain arrives Friday night into Saturday.