Intense smoke and flames tore through a home Thursday afternoon in Watertown, Massachusetts.
The fire broke out at a home on Maple Street. Aerial footage showed flames shooting through the roof.
"I just got home from work and someone came knocking on our door," said Mayra Guerra, who lives next door. "I came running out, they're like, 'The house is on fire,' they didn't say which house, I immediately grabbed my animals and ran out."
It was the home next door that was going up in flames.
Neighbors say it was a mail carrier who was knocking on doors to alert people to get out.
"I didn't find out till after that she was working," said Guerra. "I didn't see the mail hat or anything, so I wasn't sure, but then she told me she parked down the street and she was letting everyone in the neighborhood know what was going on."
The mail carrier told the residents inside the burning building not to go back inside.
Local
In-depth news coverage of the Greater Boston Area.
"She was screaming at him because he kept going back," said Fabio Mendes. "She was like, 'Just get out of there, get out of there.'"
Six tenants live in the building's three apartments. Everyone who was home at the time got out safely, but the damage is substantial.
"Just glad nothing happened to the neighbors," said Mendes. "It's just sad that they lost pretty much everything they had."
Investigators believe the fire began at the bottom of the house and spread quickly.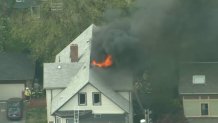 It had a major head start before firefighters arrived.
"The fire started in the back corner and ran up the outside of the building," said Watertown Provisional Fire Chief Ryan Nicholson. "It then ran up into the second and third floor up into the rafters."
In the tightly packed neighborhood, residents are happy the fire didn't spread to other homes, and that the mail carrier jumped in to help.
"I'm thankful someone took the time to come to our door and tell us to get out," said Guerrra. "Because our house was next."
Investigators are trying to figure out how the fire started. They're not sure if it started outside the house or inside.
While crews battled the fire, police in Watertown urged people to avoid Maple Street and nearby Galen Street.