A young Marine who died earlier this month was honored during a procession in his hometown of Hingham, Massachusetts, Monday night.
Sgt. Matthew P. Partyka, 25, died by suicide on July 3 while on leave at Camp Lejeune in Jacksonville, North Carolina, where he was stationed, according to his obituary.
Partyka's body was returned home via a Massachusetts State Police escort following planeside honors at 6:45 p.m. at Boston Logan International Airport, according to town officials.
The procession started around 7:15 p.m., officials said, beginning off the Derby Street exit from Route 3 south and continuing onto Whiting Street to Gardner Street to Farm Hills Lane, back to Whiting Street, to Main Street and to Pond Street.
The town had asked residents along these areas to silently stand in respect with U.S. or Marine Corps flags, if possible. It was a somber moment late Monday night as dozens of people lined the streets, not only on Main Street, but all throughout town to honor the local Marine.
While members of the community held American flags and Marine Corps flags to pay their respects, firefighters lined the overpasses along the route, with flags hanging high on ladder trucks.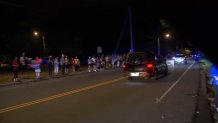 Those who spoke to NBC10 Boston said they never had a chance to meet the Marine but felt it was important to show their support Monday night.
"As a parent of 20-year-olds, it just resonates, and then the sacrifice of being in the service like he was," Hingham resident John Sullivan said. "It's just for the parents. It just breaks your heart."
"I think it's important to pay respects for a town member, a community member, and also a soldier, a Marine serving our country," said Jeff Weggeman. "It's very important, and I've got a lot of respect for people like that."
Partyka was born on October 16, 1996, in Springfield, later moving to Hingham in 2000. He attended South Elementary, the Middle School and then graduated from Hingham High School in 2015 where he was a member of the wrestling team. Partyka enjoyed playing baseball and later acting as a Little League umpire, his obituary stated.
He enlisted in the Marine Corps in August 2016 and deployed to Kuwait in 2017 in support of Operation Inherent Resolve. During his time in the service, his decorations include Marine Corps Good Conduct Medal, National Defense Service Medal, Inherent Resolve Campaign Medal, Global War on Terrorism Service Medal, and the Sea Service Deployment Ribbon (2nd Award).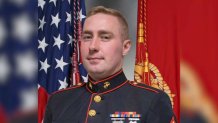 Partyka is survived by his parents, Gregory and Maureen Partyka, sisters Kathleen Watts and Caroline Partyka, brother-in-law Christopher Watts, and nephews John and Patrick Watts, as well as his grandmother Helen McGuire.
A wake will be held for Partyka at Resurrection Church in Hingham on Tuesday from 4 to 8 p.m. He'll be laid to rest with full military honors Wednesday morning at St. Paul's Cemetery in Hingham.
If you or someone you know needs help, please contact the National Suicide Prevention hotline at 1-800-273-8255, or reach out to the Crisis Text Line by texting 'Home' to 741741, anytime.