We hit rock-bottom across New England on Thursday, and there's nowhere to go but up! Temperatures slowly increase through the weekend into early next week.
Temperatures will stay cold Friday night with lows in the teens and wind chills will still be near zero in some places. It will be more of an inconvenience than a danger.
We rebound nicely Saturday afternoon with highs in the mid-30s. There will be more clouds than sunshine both days with Sunday's highs in the upper 30s.
It will be a fantastic weekend to head to the mountain resorts! There is a weak cold front that creeps south through northern New England Saturday night into Sunday that will bring light snow to ski areas. Temperatures will be in the teens north and mid-20s south at higher elevations.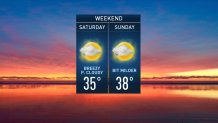 We continue our warming trend for Monday and Tuesday as a warm front lifts north. Monday's highs will be around 50. Tuesday will be in the mid-50s prior to a cold frontal passage.
Local
In-depth news coverage of the Greater Boston Area.
Scattered rain is likely Tuesday as the system moves through. We cool off to around 40 Wednesday into Thursday. A frontal boundary stalls across the northeast Thursday into Friday. This is where the forecast becomes tricky.
We may get snow and cold temps north while southern New England sees rain and temperatures in the low 40s. A more zonal jet stream pattern likely makes our forecast more tricky. This stalled boundary may continue to lay across central New England through early next weekend. Though for now, we think that pattern breaks and slightly colder air trickles in, leaving highs in the upper 20s and lower 30s Saturday and Sunday. Stay tuned!
[NATL] Extreme Weather Photos: Record Heat Threatens Europe