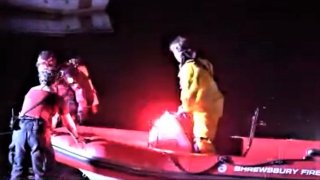 A stolen SUV was pulled from the waters of Massachusetts' Lake Quinsigamond early Thursday after people spotted it sinking into the lake Wednesday evening, police said.
When divers with a rescue team reached the vehicle resting on the lake bed, it was empty, lying on its roof in 25 feet of water, according to the Shrewsbury Police Department.
The search was centered on the water near Main Street and North Quinsigamond Ave., police said. The Shrewsbury Fire Department had earlier confirmed they were called around 9:30 p.m. for a water rescue on Main Street.
The vehicle was a 2014 Ford Edge that had been stolen earlier Wednesday from Polar Park in Worcester, according to police.
Police and firefighters from Shrewsbury and Worcester, as well as Worcester EMTs and Massachusetts State Police joined the team that investigated the sunken vehicle. The rescue team used officials' boats as well as a row boat provided by a person who lives on the lake, police said.