The warmth has one last hurrah before the cold comes slamming down Friday afternoon. We'll have a run up into the low 60s again on Friday, snapping more record high temperatures in the process. We don't have to look too far back in the record books, either. The record highs of 61 and 59 were set last year in Boston and Worcester, respectively.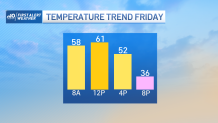 So far in this crazy warm winter, we've seen 3 days in the 60s and 19 (!) in the 50s. We've only had four days with a high temp of 32 or colder. That's second only to 2001-2002. This is all consistent with what we can expect in a warmer climate. Is this the way all winters will be from here on out? Not at all. But they WILL be frequently punctuated with mild temperatures.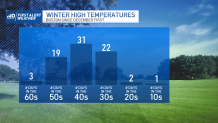 Colder air rushes in later Friday, as the cold front charges through. We're likely falling into the 30s late day as the winds gust from the northwest. We're in the chill Saturday, then a recovery on Sunday. Next week sees us bounce back to the 50s with a couple of late showers Monday and a wet weather system by late week. Cold seems determined to make an appearance late week, and could last for a couple of days.