Rain will start off Monday for spots in Barnstable, Plymouth, Dukes and Nantucket Counties. The showers will end by the morning rush, and clouds remain throughout the day. Highs will be in the lower 40s.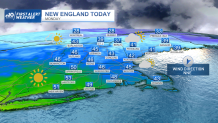 Monday night, a few flurries or snow showers are possible, particularly into parts of New Hampshire, with lows around freezing. Tuesday sees skies becoming mostly sunny, with milder highs in the middle and upper 40s.
For Wednesday, temperatures warm to near 50, with a partly cloudy sky. A shower is possible later in the day. Thursday is cloudy, with near record temperatures possible. Rain develops later in the day, highs in the lower 60s.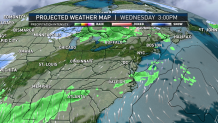 Friday is very mild, with rain likely during the morning. Highs will be in the upper 50s. Saturday finally feels like winter: expect sunshine, and highs in the upper 30s.