Mother's Day weekend couldn't have brought better weather. Temperatures are warm one day and seasonable the other. A summer taste with the return of spring will give us beautiful mostly sunny skies.
Highs will climb into the upper 70s today with low 80s in the south. The passage of a cold front this Saturday keeps a slight chance of a spot shower of sprinkle along the south coast and more clouds around, otherwise, clearing skies will take over tonight with temperatures in the upper 40s to low 50s.
Sunday morning will offer temperatures in the 50s, which under the shade may feel slightly cooler. With increasing sun and warming temperatures, the afternoon will be very comfortable, highs will make it to the upper 60s.
No rain in the forecast either, meaning that you may just about decide to keep the top off your car if you'd like, enjoy a nice walk around, biking or picking up an ice cream cone with no umbrella in hand.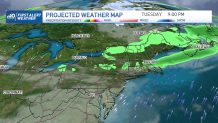 Monday will offer temperatures in the low 70s again, along dry sunny conditions. Tuesday will bring more clouds and a passing cold front that will dip temperatures into Wednesday.
Midweek will take us down to the low 60s but the second half of next week will rebound to the upper 60s and low 70s. The following weekend is not looking as warm nor dry as this one. Your First Alert Team is keeping you updated throughout the week.