July will start with a bang with red-hot temperatures on Friday, bringing the warmest temperatures thus far for the year. And on Saturday, rain and thunderstorms are the big show.
It'll be a dramatic change from Thursday, when Incredibly comfortable air across New England was ushered in by a cold front Wednesday night that triggered a few thunderstorms with frequent lightning as it passed.
Now the northwest wind carrying low-dew point air — dry air — across all six states starts busy but quiets Thursday afternoon for local sea breezes by day's end.
Thursday night brings a crisp night under partly cloudy skies before a southwest wind delivers hot air Friday under a fair sky.
Humidity will be slow to increase, climbing by day's end into the evening, meaning heat index won't reach dangerous levels, but the heat alone — with high temperatures in the low to middle 90s —means hydration and seeking breaks from the heat and hot sun will be important, regionwide. We'll be running about 10-15 degrees above seasonal average.
As humidity increases late in the day, the chance of isolated showers and thunder grows, particularly the farther north and west one is, then the chance of showers, downpours and thunder rises overnight Friday night.
Rain and thunderstorms are the main show on Saturday with as a cold front pushes through. Scattered severe storms are possible across Massachusetts, Connecticut and Rhode Island — our team issued a First Alert.
This will delay travel. A storm or two starts early Saturday morning. More are added to the mix at midday. They could be intense at times, with damaging winds and localized flash flooding. Storms with lightning should be monitored for outdoor events.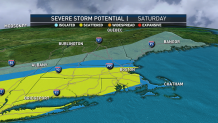 Temperatures both Saturday and Sunday are uniform in the mid-80s. Sunday is the drier of the weekend and should be great for outdoor BBQs and Independence Day celebrations.
That drier air takes hold for all of New England Sunday and Monday for a fantastic holiday of high temperatures in the 80s and lower humidity, dropping the chance of an afternoon shower to 20% or less both days and boding well for evening fireworks.
Thereafter, it's a classic early summer week for those on vacation, with daytime highs either side of 80 and scattered thunder possible in the afternoons.
More on the July 4 Holiday
Top Photos: Sights and Highlights From Around Greater Boston