A seasonable chill is in the air on Wednesday, with a partly cloudy sky. Highs top out in the middle 30s, and look for cloudy skies overnight, with low temperatures around 30.
Thursday starts off dry, with rain and snow arriving by early afternoon. Any snow will be west of Interstate 495, and into southern New Hampshire. All locations switch to rain by Thursday evening, as temperatures rise through the 40's.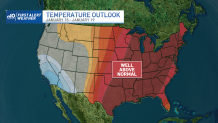 Friday is rainy, particularly in the morning and afternoon. Temperatures are very mild with highs in the middle 50's. Rain slowly tapers off by evening. Saturday is cloudy, with an early shower possible, bringing highs in the lower 40's.
Sunday is partly sunny, breezy and colder. Highs will be in the upper 30's. Monday is mostly sunny, and seasonably cool. Highs will be in the middle and upper 30's.