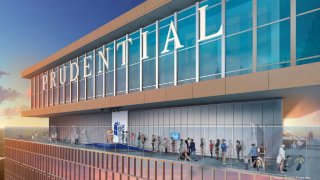 Boston Properties unveiled more details Thursday about its upcoming three-floor observatory at the top of Prudential Tower, outlining its plans for two restaurants, a theater and an open-air roof deck.
The real estate development firm is planning to open View Boston later in 2023. The long-time tenants at the Pru's pinnacle — the Top of the Hub restaurant and the Skywalk Observatory — closed in 2020 after Boston Properties did not offer a new lease. Since then, the firm has been reworking the space.
According to information published Thursday, the tower's 52nd floor will feature an indoor observatory named The View, with an elevated platform named The Lookout that will offer viewers the chance to zoom in on Boston neighborhoods.
A floor below will be the open-air Cloud Terrace, which will offer the opportunity for visitors to get their picture taken in front of the Boston skyline by a camera located more than 2,000 feet away on top of the former Hancock tower, 200 Clarendon, another Boston Properties site. That floor will also include a cocktail lounge with outdoor space named Stratus.
The 50th floor, named The City, will be home to a more family-friendly restaurant, The Beacon, as well as exhibits such as a theater with a 270-degree screen that will show a short film about attractions like Fenway Park.
Copyright Boston Business Journal