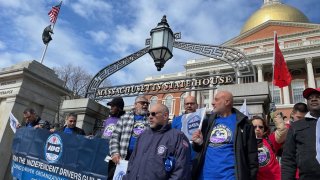 A group of about 30 ride-hailing drivers gathered in front of the State House Tuesday to push lawmakers to pass a bill that would grant such workers the right to unionize in Massachusetts.
Known among drivers as "Rideshare Drivers Justice Bill," the act was filed by lead sponsors Rep. Frank Moran, state Sen. Liz Miranda and state Sen. Jason Lewis, and is backed by the Drivers Demand Justice coalition. It would grant drivers access to collective bargaining rights, discrimination protection, unemployment insurance, paid sick time and guaranteed minimum wage.
Companies such as Uber Technologies Inc. and Lyft Inc. consider their drivers to be independent contractors, which don't have a federal right to form a union. The National Labor Relations Act protects that right for employees, but explicitly excludes independent contractors.
However, not everyone agrees with that classification, and Massachusetts is a key battleground in the debate over drivers' rights and status. In 2020, when Maura Healey was still serving as the state's attorney general, she sued Uber and Lyft alleging that drivers should be classified as employees under state law. That lawsuit is still ongoing.
Copyright Boston Business Journal