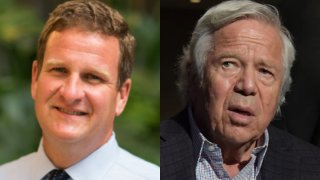 Granite Telecommunications founder Rob Hale saw his wealth rise by almost $2 billion last year, according to Forbes' latest list of global billionaires, while Wayfair co-founders Niraj Shah and Steve Conine lost their billionaire statuses amid the company's stock tumbles.
Abigail Johnson, the CEO of Fidelity Investments, is still the wealthiest person in Massachusetts, with a fortune of $21.6 billion, up from $21.2 billion last year. She is the 72nd richest person in the world, according to the list, a slight uptick from her 75th richest ranking in 2022. 
Abigail wasn't the only Fidelity Johnson to make the list. Edward Johnson IV and Elizabeth Johnson came in at 352 and 497, with $6.8 billion and $5.3 billion respectively.
Robert Kraft, the owner of the New England Patriots, saw his wealth rise by $2.3 billion, from $8.3 billion to $10.6 billion, vaulting him 98 spots up the list to 165 from 263.
Rob Hale, founder and president of Quincy-based Granite Telecommunication, rocketed up the list this year, rising 417 spaces to 534th richest from 951st richest.
Hale saw his fortune go from $3.2 billion to $5 billion, making him wealthier than New Balance chair Jim Davis, who lost $300 million from last year's $5.2 billion, making him the 552nd richest person in the world instead of the 490th richest, as he was last year.
Copyright Boston Business Journal