"Someone turned the lights out there in Memphis / That's where my family's buried and gone / Last time I was there I noticed a space left / Next to them there in Memphis in the damn back lawn."
So Lisa Marie Presley sang on "Lights Out," the lead single off her 2003 debut album "To Whom It May Concern," a smoldering dirge for the larger-than-life legacy she inherited at 9 years old when Elvis Presley died — and a vivid nod to Graceland, her father's beloved estate turned tourist shrine and increasingly populated mausoleum.  
"A lot of the funerals were all in this room," Lisa Marie told Yahoo Music during a 2013 interview at Graceland, referring to the mansion's Peacock Room. "So I think of those things. My grandfather and my father, they were right in here."
And as she eerily alluded to in song, Lisa Marie's childhood home will also be her final resting place after her sudden death Jan. 12 at the age of 54.
PHOTOS: Celebrity Deaths 2023's Fallen Stars
"It is with a heavy heart that I must share the devastating news that my beautiful daughter Lisa Marie has left us," her mother, Priscilla Presley, said in a statement, hours after her eldest child had been hospitalized, having reportedly suffered cardiac arrest at home. "She was the most passionate strong and loving woman I have ever known. We ask for privacy as we try to deal with this profound loss."
Death and grief leave no dynasty undisturbed, but there are some families that seem more touched by tragedy than others.
And since what happened to Elvis on its own would've been enough devastation for one family tree, consider the Presley line to have harbored more than its share of heartbreak.
Even Elvis' birth on Jan. 8, 1935, was shadowed by death, his identical twin, Jesse Garon Presley, having been delivered stillborn 35 minutes before he entered the world.
The Presleys' neighbors in Tupelo, Miss., where they lived in a two-room house, came together to raise $30 for the struggling family — but, concerned that 19-year-old patriarch Vernon Presley would drink it away, Gladys Presley's friends opted to throw the new mom a baby shower instead, according to Elaine Dundy's "Elvis and Gladys."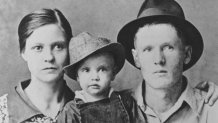 Per Peter Guralnick's 2012 biography "Careless Love," Elvis later talked about his late brother serving as his conscience, having first started hearing what he thought was Jesse's voice when he was 4 or 5 years old telling him to "care for other people, to put himself in their place, to see their point of view, to love them."
Jesse was buried at Priceville Memorial Gardens in Tupelo, but there's also a memorial stone for him on the grounds of Graceland amid the graves.  
PHOTOS: Jacob Elordi's Elvis Presley Transformation in "Priscilla"
"That's All Right," Elvis' first commercial single, was released July 19, 1954. With his sensual snarl, hips that couldn't be contained, and sound that combined country twang with the rhythm-and-blues he gravitated toward at a young age — the segregated South no hindrance to his musical education — fame descended hard and fast.
But even though he was the hottest thing on two legs, and he never wanted for female attention for the rest of his life, Elvis remained the proverbial mama's boy.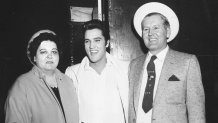 Gladys doted on her surviving son, and she kept the family together through Vernon's frequent spates of unemployment — and an eight-month stretch in jail for check fraud.
When his recording career started to take off, Elvis made sure that neither parent wanted for anything, eventually moving them right into Graceland when he bought the eight-bedroom mansion in 1957.
But their happiness there was short-lived: Elvis was drafted into the U.S. Army in 1958, and in August his parents were driving to catch a train back to Memphis after visiting their son at Fort Hood in Killeen, Texas, when Gladys fell ill.
PHOTOS: Celebrity Parents With Twins
Granted emergency leave, Elvis flew to Memphis a few days later and went right to her hospital bedside, according to wire reports from the time.
"She's a desperately ill woman, but we're a little more encouraged by her condition today," Dr. Charles Clarke told UPI on Aug. 13, 1958, noting there was evidence of "severe liver damage."
Gladys died on Aug. 14 at the age of 46. (One of the many Presley myths is that she was 42, Elvis' age when he died.) She suffered a fatal heart attack, with liver failure caused by chronic alcoholism cited as a contributing factor.
The Associated Press reported that Elvis "sank to his knees beside his mother's bed and wept." The singer, 23 at the time, told reporters, "It broke my heart. She was always my best girl."
READ: The Heartbreaking Truth About Elvis and Priscilla Presley's Love Story
He was reportedly on the verge of hysteria at her funeral, saying at the gravesite, "Good-bye, darling. We loved you. Oh God, everything I have is gone. I lived my life for you. I loved you so much."
Upon his return to Texas, he told the AP, "One of the last things mom said was that dad and I should always be together. I'll report back to Fort Hood Monday morning. Wherever they send me, dad will go too."
Elvis ended up stationed Germany, where he'd meet his future wife, then-14-year-old Priscilla Beaulieu — but legend has it he never really got over his mother's death.
When Vernon married Dee Stanley on July 3, 1960, Elvis was not in attendance — though he entrusted his father and stepmother to help look out for his future bride when she moved to Memphis to finish high school. Priscilla had met Vernon in Germany, Elvis' dad going everywhere he went, per Gladys' wishes.
"People have said, 'Oh my gosh, I can't believe your parents let you go with this stranger,'" Priscilla reflected on "Good Morning America" in 2017. "But it was a very innocent time. I liked him very much. I certainly felt safe."
And when Vernon spent the occasional night in his old bedroom at Graceland, he did so next to a closet still full of Gladys' clothes. No matter where he was in the country, Elvis had flowers delivered to his mother's grave every week and made sure the site was neatly maintained.
Priscilla was 22 when she married Elvis on May 1, 1967, in Las Vegas. Lisa Marie was born exactly nine months later.
When Elvis saw their daughter for the first time, "he was already in love with her," Priscilla wrote in her 1985 memoir "Elvis and Me." "He watched me holding her and his eyes misted with happiness. Then he took us both in his arms and held us."
But Priscilla noted the "disquieting" effect that her becoming a mother had on her husband. Two months after she'd given birth, she wrote in her diary, "he still hasn't touched me. I'm getting concerned."
He eventually did, but she could tell that something had changed between them, that Elvis saw her differently.
At the same time, he saw other women exactly the same as he always had — available and not connected in any way at all to his other life as a husband and father.
"Elvis kept up his lifestyle," Priscilla told Closer in 2017. And she tried to ignore it, "for as long as I could. But I did know that there was some finagling going on."
PHOTOS: Celebrity Couples Caught Up in Cheating Scandals: Where Are They Now?
However, the raging success of his first month of performances at the International Hotel in Las Vegas in 1970 "brought a new vitality to our marriage," Priscilla recalled in her book. "He seemed a different person... It was also the first time that I felt we were functioning as a team."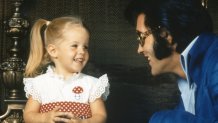 When they were apart, Priscilla would send him care packages full of family photographs and tapes of Lisa Marie sounding out new words. And when she came to town, "I'd paste photos on the mirrors in his bedroom to remind him he had a wife and child."
During the early days of his residency, she continued, Elvis — who hadn't performed live in nine years before agreeing to play Vegas — actually seemed humbled by the adoration, and he was too devoted to rehearsing and putting on the best show possible to show interest in "outside affairs or flirtations."
But, in Priscilla's opinion, his domestic life was ultimately no match for the love he was getting from the crowds and, once again, amorous fans.
PHOTOS: Celebrity Weddings in Las Vegas
It wasn't the cheating that ultimately put the stake in the marriage, though. Priscilla was mainly tired of having an absentee husband, and Elvis' volatility when they were together — exacerbated by prescription drug abuse, and all the enablers who ostensibly worked for him but whose main job was to cater to his whims — didn't help matters.
"If he saw somebody he didn't like on the TV, he'd get his gun out and blow it up," Priscilla recalled on "Good Morning America" last year. "Then he would tell his daddy to go get another TV."
And eventually Elvis suggested to her that she come to Vegas less often.
Their divorce was finalized Oct. 9, 1973. Though Priscilla recalled a few months of bitter proceedings, they agreed amicably to shared custody of Lisa Marie, and so the child started splitting her time between Graceland and her mom's home in Los Angeles. Elvis christened his private plane the "Lisa Marie."
Talking to Yahoo Music in 2013, Lisa Marie recalled being bitten by the performance bug early, her dad watching her sing her heart out, using his hairbrush as a microphone, in his massive walk-in closet at Graceland. 
Priscilla told People in 1978 that she continued to go to Graceland with Lisa Marie "like we were never divorced. Elvis and I still hugged each other, still had love. We would say 'Mommy said this' and 'Daddy said that.' That helped Lisa to feel stable. There was never any arguing or bitterness."
READ: These Photos of Jacob Elordi's Elvis Presley Transformation Will Always Be on Your Mind
When Elvis died at Graceland of an apparent heart attack on Aug. 16, 1977, when he was only 42, Priscilla recalled wanting to die, too.
"I could not face the reality that I would never see him alive again," she wrote in "Elvis and Me." "He had always been there for me. I depended on him, just as he depended on me. We had a bond. We'd become closer and had more understanding and patience for each other than in our married life. We had even talked of one day..."
"And now he was gone."
READ: Elvis' Ex Linda Thompson Says Her Heart Is "Too Heavy for Words" After Lisa Marie Presley's Death
Lisa Marie was 9 and staying at Graceland when her father died just hours after kissing her goodnight, the last time she saw him alive. Though Elvis' girlfriend at the time, Ginger Alden, was the one who discovered his body, his daughter also glimpsed him lying facedown on the bathroom floor. Toxicology testing found 14 drugs, including barbiturates, in Elvis' system, forever linking his untimely death to chronic drug use.
"I just had a feeling," Lisa Marie told Rolling Stone in 2003. "He wasn't doing well. All I know is I had it, and it happened. I was obsessed with death at a very early age."
Though she recorded several technologically aided "duets" with her dad over the years, 2003's "To Whom It May Concern" marked her solo debut.
"You want to know who I am, and what I am, it's in here," she told Rolling Stone of the album. "This is how either f----- up I am, or crazy or deranged or stupid or whatever you want to call it. This is me, and it's from me, and that's the only reason I did it."
She had welcomed daughter Danielle (the actual first name of actress Riley Keough, who goes by her middle name), in May 1989, and son Benjamin in October 1992 with her then-husband Danny Keough.
"The smartest thing I've ever done is have children with this man, because I knew this is the one man I could be connected to for the rest of my life," Lisa Marie said of her ex.
After her divorce from Keough, Elvis' daughter infamously married Michael Jackson, the newlyweds thumbing their nose at people's confusion with a big kiss at the 1994 MTV Video Music Awards that September. 
"I always liked him," Presley later told Jackson biographer Randy J. Taraborrelli. "Michael fascinated me with his talent. I loved watching him dance. He wanted to know me better, but I always thought he was sort of freakish. I didn't really want to know him any better than I already did."
Their union lasted less than two years. Jackson died of a propofol overdose in 2009 at the age of 50.
Lisa Marie also tried marriage on for size with Nicolas Cage in August 2002, but he filed for divorce that November, saying in a statement, "I did not talk about the marriage and I am not going to talk about the divorce. But I loved her."
Her statement read, "I'm sad about this, but we shouldn't have been married in the first place. It was a big mistake."
Talking to Rolling Stone a few months later, Lisa Marie said the marriage was "still hanging on a thread, and I'm not sure what's going on, and I'd rather not talk about it just because of that."
"I was a tyrant as a kid, and then I had babies and settled down," she reflected to Playboy in an interview published July 30, 2003. "Recently, in the past six years, I've gotten back in touch with my inner tyrant teenager. My friends were all out being crazy at 20, and I had babies. Now they're married and I'm like, 'Look at you, you've got it together and I don't!'" Her divorce from Cage was reportedly finalized in 2004.
Lisa Marie re-settled down with musician Michael Lockwood in 2006, with whom she welcomed fraternal twin daughters Harper and Finley in 2008.
She filed for divorce (later amended to legal separation) in 2016.
Seemingly having experienced enough for nine lives by the time she was 50, Lisa Marie was faced with the unthinkable when her son, Benjamin Keough, died by suicide in July 2020 at the age of 27. Her rep said at the time that Lisa Marie was "completely heartbroken, inconsolable and beyond devastated but trying to stay strong for her 11-year-old twins and her oldest daughter Riley. She adored that boy. He was the love of her life."
Three months later, Benjamin was laid to rest in the Memorial Garden at Graceland, next to Elvis, his great-grandparents Gladys and Vernon (who died in 1979) and great-great-grandmother Minnie Mae Presley.
"Grief is something you will have to carry with you for the rest of your life, in spite of what certain people or our culture wants us to believe," Lisa Marie wrote in an essay for People published on Aug. 30, 2022, National Grief Awareness Day. "You do not 'get over it,' you do not 'move on,' period."
She admittedly blamed herself, a constant struggle.
"I've dealt with death, grief and loss since the age of 9 years old. I've had more than anyone's fair share of it in my lifetime and somehow, I've made it this far," she continued. "But this one, the death of my beautiful, beautiful son? The sweetest and most incredible being that I have ever had the privilege of knowing, who made me feel so honored every single day to be his mother? Who was so much like his grandfather on so many levels that he actually scared me? Which made me worry about him even more than I naturally would have? No. Just no...no no no no..."
"It's a real choice to keep going, one that I have to make every single day and one that is constantly challenging to say the least...But I keep going for my girls."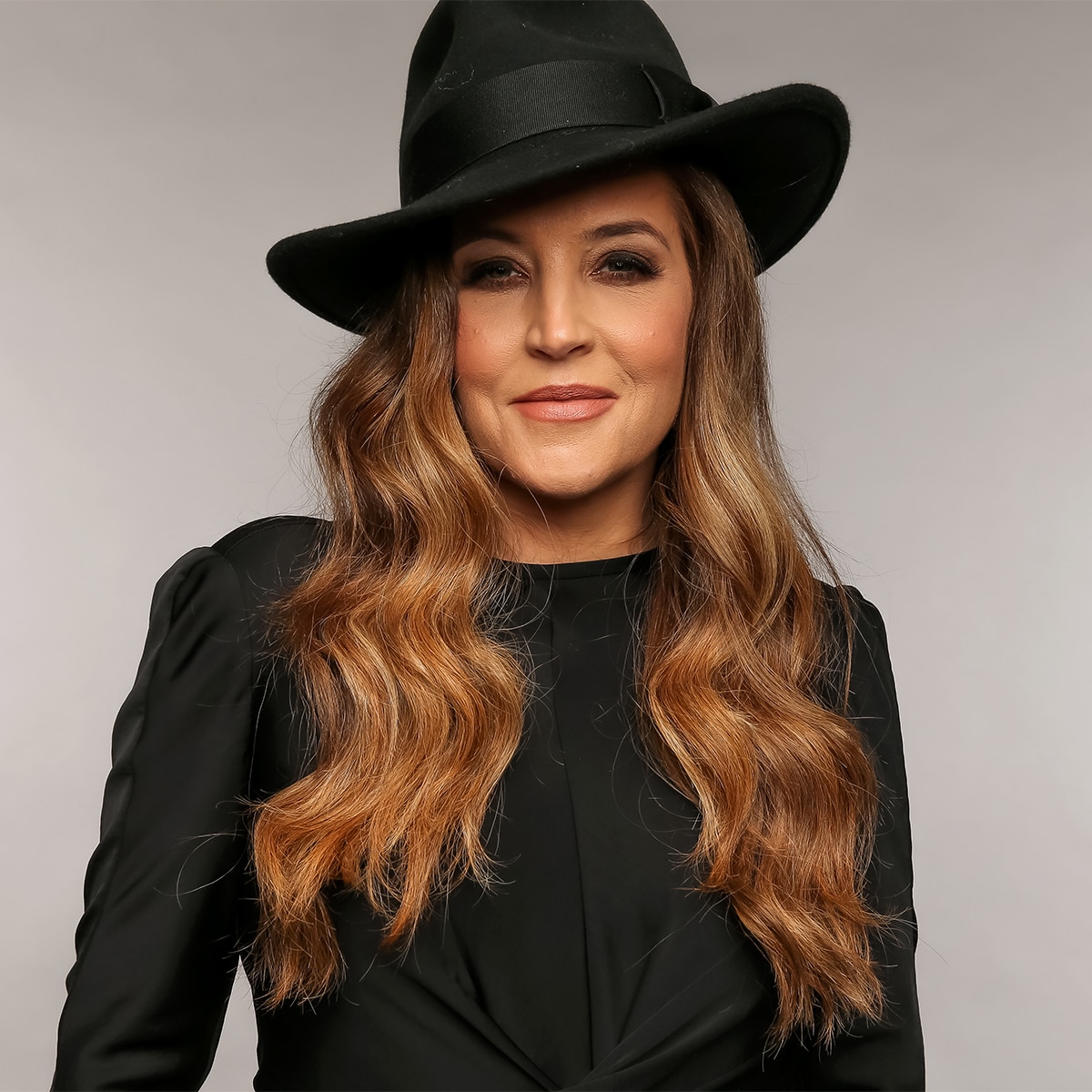 With the opening of Baz Luhrmann's "Elvis" last year, a fantastical and dazzling but still gut-wrenching film about her father's rise and fall, Lisa Marie had started to venture back out into public life, attending the movie's U.S. premiere at Graceland in June with Priscilla and Riley.
She wrote on Instagram that she had wished her son could've seen "Elvis," calling it "nothing short of spectacular." Benjamin "would have absolutely loved it as well."
On Jan. 10, two days after a visit to Graceland to observe what would've been her father's 88th birthday, she and Priscilla attended the Golden Globes as part of the ongoing "Elvis" party. 
"I actually had to take like five days to process it, because it was so spot on and authentic," Lisa Marie told Extra on the red carpet before watching Austin Butler win Best Actor in a Motion Picture, Drama, for his uncanny portrayal of her father.
"Thank you for opening your hearts, your memories, your home to me," Butler said during his acceptance speech, his sonorous Memphis drawl from the film still intact. "Lisa Marie, Priscilla, I love you forever."
Two days later, Lisa Marie was gone. And, as she predicted, her forever home at Graceland is waiting.
Copyright E! Online