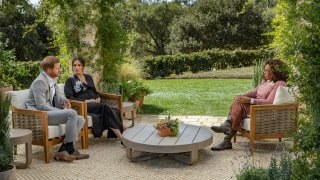 In a wide-ranging interview that aired Sunday, Harry and Meghan described painful palace discussions about the color of their son's skin, losing royal protection and the intense pressures that led the Duchess of Sussex to contemplate suicide.
The interview with Oprah Winfrey was the couple's first since they stepped down from royal duties and the two-hour special included numerous revelations likely to reverberate on both sides of the Atlantic.
Meghan, who is biracial, described that when she was first pregnant with son Archie, there were "concerns and conversations about how dark his skin might be when he's born." The statement led Winfrey to incredulously ask "What?"
While Winfrey sat in silence, Meghan said she struggled to understand why there were concerns within the royal family about her son's skin color. She said it was hard for her to "compartmentalize" those conversations.
Meghan said the family had the conversation with Harry, who relayed it to her. She declined to say who was involved because revealing their name would be "very damaging to them."
Later in the interview, Winfrey pressed Harry on the issue, who declined to comment, but said talk of what the kids "will look like" happened early in his romance with Meghan.
"That conversation I'm never going to share," he said. "It was awkward. I was a bit shocked."
Meghan also said she was stunned when she was told Archie would not be a prince and grew concerned because it meant not receiving security from the palace. More than the "prince" title, she felt the most troubled over her son's safety and protection.
"He needs to be safe," a teary-eyed Meghan recalled. "We're not saying don't make him a prince or princess, whatever it's going to be. But if you're saying the title is going to affect their protection, we haven't created this monster machine around us in terms of click bait and tabloid fodder. You've allowed that to happen, which means our son needs to be safe."
Under current guidelines of the monarch, great-grandchildren of the queen are not princes or princesses, except for the children of the eldest son of Prince Charles, who is next in line to the throne. That's why Prince William and Kate Middleton's children are Prince George, Princess Charlotte and Prince Louis. When the Prince of Wales ascends to King, Archie would then be entitled to receive a royal designation.
Meghan appeared to suggest that convention was being changed to strip Archie of eligibility. The idea that "the first member of color in this family isn't being titled in the same way as other grandchildren would be," that was a huge piece of what made the decision so upsetting, she said. "Also it's not their right to take it away," Meghan added.
Harry revealed the royal family cut him off financially at the start of 2020 after announcing plans to step back from his roles. But he was able to afford security for his family because of the money his mother, Princess Diana, left behind.
In response to a question from Winfrey, Harry said he wouldn't have left royal life if not for his wife. He said their relationship revealed the strictures of royal life.
"I wouldn't have been able to, because I myself was trapped," Harry said. "I didn't see a way out."
"My father and my brother, they are trapped," he added.
Harry disputed rumors that he intentionally blindsided his grandmother, Queen Elizabeth II, with his decision to split. He suspects the rumors came from the institution.
"I've never blindsided my grandmother," he said. "I have too much respect for her."
Meghan also told Winfrey that she realized soon after marrying Harry that she learned the institution of the royal family would not protect her. She said that "not only was I not being protected, but they were willing to lie to protect other members of the family, but they weren't willing to tell the truth to protect me and my husband."
Meghan said it was not so much the royal family members themselves who treated her this way, but the people behind the institution.
"The queen has always been wonderful to me," Meghan said.
The Associated Press/NBC