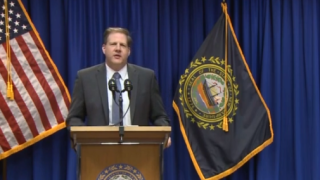 Officials in New Hampshire continue to ramp up COVID-19 testing amid a rising number of positive cases in the state.
During a Monday news conference, Gov. Chris Sununu announced that New Hampshire Public Health is embarking on a community-based campaign to increase testing to 1,500 residents a day.
"The goal is to make testing as easy as possible," Sununu said.
Five new testing locations will be established for residents who are not able to access hospital-based clinics or urgent care centers. Those locations will be in Claremont, Lancaster, Plymouth, Tamworth and Rochester.
Each site will be open daily for 8 hours a day and staffed by the New Hampshire National Guard, Sununu said. Those sites are expected to be running by Wednesday.
Sununu said the new sites will help track potential community-transmission hot spots and help state officials go forward with making plans to eventually reopen the economy.
As of Monday, the New Hampshire Department of Health and Human Services announced 75 new positive test results for COVID-19, the disease caused by the new coronavirus, bringing the number of overall cases to 1,938. There were no new COVID-19 deaths reported, leaving the number of deaths to 60.
More on the Coronavirus in New Hampshire
There are three new COVID-19 outbreaks at long-term care facilities in the state, Department of Health and Human Services Commissioner Lori Shibinette said. Those facilities are Birch Hill in Manchester, Crestwood Center in Milford and Salemhaven in Salem.
Prior to the news conference, Sununu was on a call with President Donald Trump, Vice President Mike Pence and governors across the country to discuss the COVID-19 pandemic.
The governor said he would announce more details on the extension of New Hampshire's emergency declaration later in the week. On Friday, Sununu extended the state of emergency over the coronavirus for the second time.
"I don't think that's going away after the fourth, but we may be able to come back and augment it and adjust it and try to create some flexibility," Sununu said Monday.