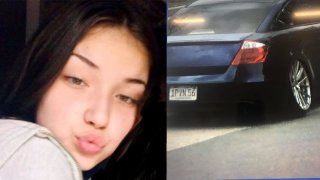 A teenager from Rockland, Massachusetts, who had been missing since Tuesday has been found safe after police worked tirelessly to locate her, authorities said Saturday.
Teyanna Cuocolo, 14, had last been seen on June 15 at 12:30 p.m. at Rockland's Rogers Middle School wearing a blue crop-top hoodie and black bike shorts. In the initial Facebook post when they shared that she was missing, police said Teyanna often visited Brockton and Milton.
Then on Friday, police posted an update on social media, saying Teyanna was still missing and also sharing still images from a video that showed the 14-year-old getting into a car the day she was last seen.
Police said at the time that multiple agencies were assisting in locating her.
When police shared their update Saturday that Teyanna had been found and is safe, they thanked the Brockton and New Bedford police departments for their help.
They also specifically said Officer Ethan Schnabel and Detective James Casper worked tirelessly to locate the teen.
Local
In-depth news coverage of the Greater Boston Area.
No information was immediately provided on where Teyanna was found, or why she went missing.