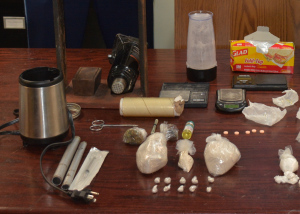 Massachusetts State Police arrested two men at the Motel 6 in Danvers on Friday morning for trafficking heroin and cocaine.
The investigation began in the early morning when police learned that there was an active arrest warrant for 25-year-old Gabriel Calderon of Lynn, who was staying in a room at the motel on Newbury Street. His roommate, 36-year-old Geronimo Espinol of Peabody, also had an outstanding warrant for his arrest.
In the process of the arrests, troopers recovered over 200 grams of heroin, 18 grams of cocaine, and over $12,000 from the motel room.
Local
In-depth news coverage of the Greater Boston Area.
Calderon and Espinol are charged with trafficking a Class A drug, trafficking a Class B drug, possession of a Class B drug, possession of a Class C drug with intent to distribute, possession of a Class E drug with intent to distribute, conspiracy to violate the controlled substance laws, and conspiracy. They are held on $500,000 bail each, pending their arraignment in Salem District Court on Monday.