Two people were stabbed by a coworker at a construction site Monday morning in Cambridge, Massachusetts, police said. Authorities had to use a boom to extricate the men, who are in their 20s.
Carcensky Salvant, 21 of Randolph, was arrested after allegedly stabbing a coworker over a "debt owed" around 7:15 a.m. at 55 Wheeler Street.
Another worker was stabbed multiple times in the back when he jumped in to help, Deputy Pauline Wells said Monday. Police are still investigating the motive.
"Could be drugs, could be anything. The assailant kept saying that, 'He owes me, he owes me,' so he owed him for something," Wells said. "Bravery is definitely the word of the day for his coworkers."
The victims were taken to a local hospital with serious but non-life threatening injuries. Both are expected to recover.
A woman who spoke with NBC10 Boston identified one of the victims as her son, Greyson DePina.
"I was in shock when I found out," Crystal DePina said.
A subcontractor who was working on the site, who employs the three workers under Shawnlee Construction LLC, disarmed Salvant and held him in a restraint until police came. The subcontractor recently began studying Jiu jitsu, Wells said, estimating that he held Salvant for about 10 minutes.
"That's a long time to hold somebody down," Wells said. "I have told him what a great job he did... He was explaining to me that his arms were getting very tired and he was very grateful that the police got there as quickly as they did."
Crystal DePina says another coworker also helped apply a tourniquet to help save her son.
"Alfredo was just telling me how he took off his new belt and applied pressure to the wound, cause it was really pumping blood," she said.
"It was a pretty hairy scene," Wells said. "A lot of screaming, a lot of yelling."
Salvant appeared before a judge Monday in Cambridge District Court to answer to two counts of armed assault with intent to murder, two counts of assault and battery with a dangerous weapon and one count of assault and battery to collect a loan. In court, Salvant kept interrupting the judge, saying, "He owes me 14 grams."
The initial assault began as the first victim was standing on a ladder, so many of the stab wounds were to his legs.
Due to the construction on what Wells said appeared to be an apartment building, first responders had to use ladders and an unfinished stairwell to access the crime scene. Firefighters extricated all three men from the third floor with a boom from the construction site.
DePina says she's grateful to all the coworkers and first responders who helped.
"Thank you for all you do," she said. "Without them, it could have been a whole different story."
Sign up for our Breaking newsletter to get the most urgent news stories in your inbox.
The man who rescued Crystal DePina's son is a firefighter who says this was far from your run-of-the-mill rescue.
Cambridge firefighter Silvio Estrada says this wasn't your routine rescue for a lot of reasons. First, due to the unfinished stairs. And one man was hurt so badly that they had to use a crane to get him out as fast as possible.
"It doesn't happen all the time," Estrada said of the dramatic rescue that was caught on camera after the construction site turned into a crime scene.
Estrada used a crane to lower one of the victims to safety.
"I was telling him we will be there in about 10 seconds," Estrada recalled. "I was trying to talk to him so he wasn't focused on the pain."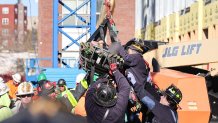 Neighbor Sarah Diehl said the apartment buildings have been under construction for some time. She said she was stunned by the violence.
"My thoughts and prayers are for the workers and their families right now," Diehl said.
Salvant remains behind bars for now, at least until a dangerousness hearing later this week.
Crime scene investigators collected some clothing as well as a folding knife Monday. Their investigation is ongoing.