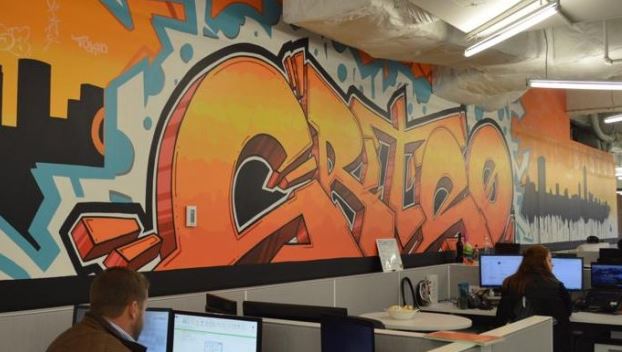 Mark your calendars! We are kicking off the New Year with a State of Innovation Meetup: The Future of Adtech, on February 8th from 6:00-8:30PM. This time we'll be invading Criteo's unreal Boston office (They even have a slide for employees and an amazing skyline view). We'll be announcing the full list of panelists tomorrow. Stay tuned.
What is AdTech? AdTech is the systematic buying and selling of advertisements across digital platforms. One aspect of AdTech is retargeting, which is Criteo's focus. During your normal internet browsing, they are the ones reminding you to buy those sweet sandals you were checking out on ISlide a week ago, or a new couch that you were eyeing on the Wayfair website.
Why is AdTech Important? AdTech is changing the way brands advertise. It's also projected to be a $53.3 billion industry by 2018, demanding a quarter of total advertisement spending. AdTech continues to change the advertising agencies' role and their significance in this sector. Our expert panelists will dive into how this has effected the current industry and where they think it's heading in the future.
Local
In-depth news coverage of the Greater Boston Area.
Why Criteo? Criteo's Boston office is the perfect spot for this engaging discussion. They are international leaders in creating digital advertising solutions to meet any company's needs. Worldwide their 2,200 employees work on analyzing the digital user behavior to create personalized ads to increase overall sales. Pretty cool huh? Grab your tickets for the meetup to learn about advertising solutions for your company, experience a panel discussion full of advertising veterans or to learn more about employment opportunities in their 30 global offices.
Moderator:
Jessica Breslav, Managing Director for Mid-Market Americas of Criteo
State of Innovation Meetup Panelists:
Steven Ustaris, CMO of ownerIQ
Doug Hurd, Co-Founder of clypd
Bettina Hein, CEO of Pixability
Baba Shetty, CEO of Invisible Science
Tickets for this event will include appetizers, cocktails, and an intimate networking experience with local industry influencers.
Want to learn more about sponsorship at BostInno Events? Email us at sales@streetwise-media.com
Thank you to our State of Innovation Meetup Sponsor
More BostInno Stories:
Copyright Boston - BostInno