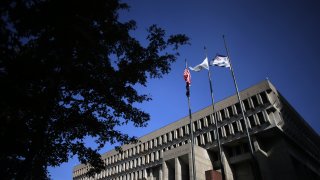 Mayor Michelle Wu has reached into the Boston City Council and tapped a former colleague to run the Boston Housing Authority.
District 8 Councilor Kenzie Bok will "begin a transition period" in May and eventually replace Administrator Kate Bennett, whose timeline for stepping down was described as "later this summer," Wu announced Wednesday.
The BHA is charged with providing affordable housing to more than 62,000 city residents, and City Hall called it the largest public housing authority in New England and an agency that houses close to 9 percent of Boston residents.
Prior to her election to the council in 2019, Bok was the senior advisor for policy and planning at the BHA.
"I am delighted that Councilor Bok will become the next Administrator at the BHA," Bennett said in a statement released by the mayor's office. "She is the right person to take BHA to the next level. She is passionate about the Authority and its mission, she knows our staff and residents, and she is a brilliant housing advocate."
The Wu administration credited Bok for her work in 2016 on a ballot campaign that led the city to adopt the Community Preservation Act, a 2000 state law that allows Massachusetts communities to add a surcharge on local property taxes and tap state matching funds for public parks and fields, open space, affordable housing, and historic building preservation projects.
Bok previously held leadership roles at Greater Boston Interfaith Organization and the Massachusetts Affordable Housing Alliance. She graduated from Harvard College, and earned a master of philosophy and a Ph.D. in history from the University of Cambridge in England.
Local
In-depth news coverage of the Greater Boston Area.
"Public housing is a public good, and all of Boston benefits when our public housing communities are strong," Bok said. "I'm so excited to return to BHA to put our residents and voucher-holders at the heart of everything our City does, by providing safe high-quality housing for every family and by ensuring the best access to jobs, services, and all the opportunities Boston has to offer."
District 8 includes Mission Hill, Longwood, Audubon Circle, Fenway, Kenmore, Back Bay, Beacon Hill, and the West End.
Copyright State House News Service