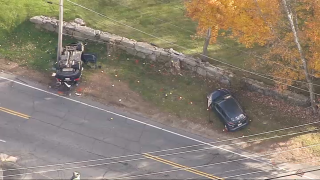 Two SUVs collided on a road in in Mendon, Massachusetts, Thursday, killing on e of the drivers when his vehicle rolled over, police said.
The collision between a Nissan Rogue and Hyundai Kona took place on Maple Street near Hastings Street shortly before 12:51 p.m., Mendon police said. Investigators believe the Nissan hit the back of the Hyundai, then hit a tree trunk.
The Nissan flipped over and was seriously damaged, police said. Footage from the scene showed two vehicles on the side of the road, one flipped over on its roof next to a utility pole.
The Nissan's driver was removed from the SUV by Mendon firefighters. He was taken to Milford Regional Medical Center and later died, police said.
The Hyundai's driver was unhurt.
Maple Street was closed to traffic and Mendon police urged drivers to avoid it. The crash remains under investigation.