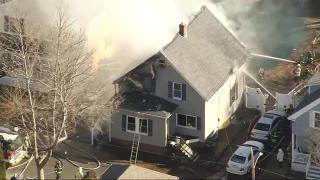 Firefighters battled a large house fire in Beverly, Massachusetts, on Tuesday afternoon.
Beverly fire officials said the scene was located on Swan Street near Cabot Street in the downtown area. Heavy smoke and flames could be seen shooting from the building.
All of the building's residents were able to escape safely, fire officials said.
Around 2:18 p.m., all firefighters were ordered out of the building.
Firefighters from multiple area departments responded to the scene.
The cause of the fire is under investigation.
No further information was immediately available.