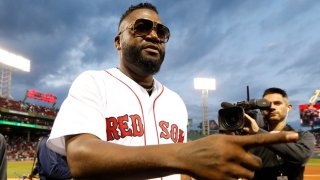 No one could have seen it coming — in 2002, when the Minnesota Twins cut a 27-year-old David Ortiz, no one could have predicted he would become a generational talent, the face of the Boston Red Sox.
All season, fans have reflected on his brilliant career. Now that he has stepped out of the batter's box and adjusted his gloves for the last time, his number set to be retired, we look back fondly at the legend of Big Papi.
His 14 years in Boston were superb. He helped lead the team to its first World Series victory in 86 years. Then another ... and another. He represented the Red Sox in 10 All-Star Games; he took ownership of the team's single-season home run record with 54 in 2006. Fans cheered on as he hit his 500th home run. "This is our [expletive] city," he bellowed to his emotionally raw adopted hometown after an arrest was made in the Boston Marathon bombings, further cementing his place in our culture.
Below, you'll see some of Big Papi's biggest moments. You'll hear about him in his own words. You'll see how profound his later years have been, and why he may or may not end up in the Hall of Fame. And some of his fans will tell you just how much he has meant to them.
CONTENT GOES HERE
#ThanksPapi
NOTABLE MOMENTS
David Ortiz is a truly elite baseball player. But he is just as dynamic of a character. Big Papi spent years electrifying Red Sox fans — here are a few of his most notable moments.
Local
In-depth news coverage of the Greater Boston Area.
CAREER MILESTONES
When you're one of the best power bats in baseball, and you spend parts of 20 seasons in the major leagues, you're bound to have a milestone hit or two. Watch some of David Ortiz's most meaningful hits.
Sometime between winning his second and third World Series rings with the Red Sox, the story of David Ortiz appeared to be coming to a sad end. Then came a long renaissance, during which his individual and team accomplishments mirrored those of his past. Did Big Papi actually get better with age? >>>HERE'S AN IN-DEPTH LOOK AT PAPI'S LATER YEARS
Looking exclusively at his offensive numbers, David Ortiz is a clear-cut Hall of Famer. But factoring in voters' records with designated hitters and questions regarding a 2003 PED survey makes his chances murkier. >>>HERE'S A FULL ANALYSIS OF HIS HALL OF FAME CREDENTIALS
David Ortiz: A Career in Pictures
The days leading up to Big Papi's last at bat were filled with tributes, including custom cleats, plans to name a bridge in honor of him, tv advertisements, a shark sighting, and too many photos and tweets to count. >>>HERE'S A LOOK AT THE ADULATION
What David Ortiz Means to His Fans