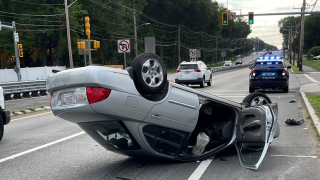 A car struck a utility pole and landed upside down Friday morning on Route 9 in Wellesley, Massachusetts, police said.
Wellesley police responded to Rt. 9 east for the crash near the Natick line around 7 a.m.
Fortunately only minor injuries were reported, police said.
Delays were expected in the area as a result of the rollover crash, however.
No other information was immediately available, including what caused the car to strike a utility pole, or how many people were inside the vehicle.