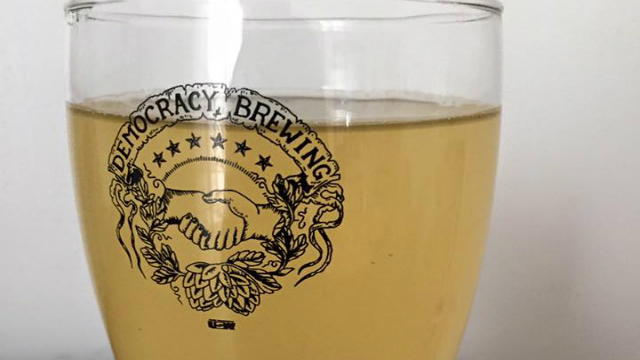 When Democracy Brewing, the worker-owned cooperative, told us back in April they were bringing an authentic brewery experience to Boston, they weren't kidding. The company announced today it has signed the lease on the space, making Boston's first Downtown Crossing brewery official.
The bar, restaurant, and brewhouse is headed to a 7,600-square-foot retail square feet at 29-35 Temple Place, situated in the old Windsor Button building next to jm Curley and across the street from Stoddard's Fine Food & Ale.
"We hope to be a place for everyone and this is really reflected in our beers from style to price point," said Jason Taggart, co-founder and head brewer. "We aim to always have 8-10 beers on tap with core brands and constantly rotating drafts, so you can always try something new. Just because your boss doesn't pay you enough doesn't mean you don't deserve a delicious and fresh brewed beer. That's why we will offer our Worker's Pint, a golden ale at $5."
Local
In-depth news coverage of the Greater Boston Area.
That beer will serve as a bridge for craft rookies looking to get their feet wet. On the other hand, Taggart added, "We also want to be the ultimate place for beer aficionados and even have an entire room just for barrel aging our beers."
A worker-owned cooperative, Democracy Brewing grants employees equity shares in the business after one year of employment and will pay all workers $15/hour, plus tips, as a starting salary.
"This business model for us is about two American ideals. It's about everyone enjoying the pride and profit of owning their own business. It's also about democracy - specifically bringing democracy to the workplace," said founder and worker owner James Razsa. Razsa is a Dorchester native; everyone else on the team, pictured below, hails from the state, as well.
The space will feature 100 seats in the front of the house as well as 45 seats in "a unique event space that will provide discounted rates to non-profits, unions, and other advocacy organizations – steps away from the Freedom Trail, Boston Common and the State House."
All brewing will be done on site, with an emphasis on food pairings. Take, for example, the saison head chef Ben Waxler says will pair beautifully with their chicken confit nachos. "We hope to give the full brewery experience, but in the heart of Boston. We will take that to the next level by focusing our menu on pairing every beer with the best meal possible," Wexler added.
Democracy Brewing hopes to open to the public in the first quarter of 2018.
Street view via Google.
More BostInno Stories:

Copyright Boston - BostInno