Authorities are investigating after a man was killed in a police shooting in Springfield, Massachusetts, early Saturday morning.
The man was identified Monday afternoon as Mr. William Tisdol, 48, of Hartford, Connecticut.
The Hampden District Attorney's Office released a statement Saturday confirming the investigation and noting that it will consist of all available evidence, including body worn camera footage, public and private video recording systems, witness statements, investigative reports, 911 calls and dispatch logs.
According to the district attorney's office, the Massachusetts State Police Gaming Enforcement Unit responded to a report of a 48-year-old man acting aggressively towards others within the MGM Casino around 2:30 a.m. The man was said to possibly be armed with a gun.
Investigators attempted to locate the man as he left the casino in the direction of Union and Main streets.
Authorities pursued the man on foot after contact was made with him, the DA said, and during that pursuit, shots were fired and exchanged between the man and the responding officers.
The man was struck during the exchange of gunfire, the district attorney said, adding that officers requested an ambulance and rendered medical aid to the man. He was taken to Baystate Medical Center in Springfield where he later died from his injuries.
Video from the scene showed a large section of sidewalk partitioned off with yellow police tape near a CVS Pharmacy. Multiple police cruisers were parked, blocking the intersection.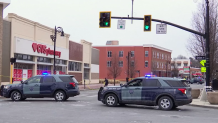 This incident is being actively investigated by the Hampden District Attorney's Office, in conjunction with Springfield police detectives. Massachusetts State Police confirmed they are assisting the DA's office with their investigation, which will determine whether the use of force, resulting in a death, was appropriate, or if criminal charges are warranted.
Local
In-depth news coverage of the Greater Boston Area.
"Hampden District Attorney Anthony D. Gulluni is committed to a thorough, fair, and transparent process, concluding with the evidence and his decision being presented to the public," a statement from the DA's office read. "There is no time table for the conclusion of the investigation, but the Hampden District Attorney's Office will move expeditiously in order to provide all those concerned and the public with clear and objective findings."