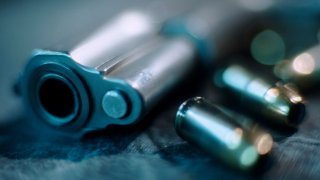 A former Massachusetts state senator and Republican candidate for Congress has been charged after allegedly stealing a gun from an elderly constituent and misleading investigators about what happened, Attorney General Maura Healey said Friday.
Investigators said Dean Tran, 46, of Fitchburg, used his position as a public official to intimidate the constituent into parting with her late husband's firearms, making her sign a pre-prepared contract and giving her $1,500 in cash for at least eight guns while visiting her in June 2019.
When asked to return them the next day, Tran complied. But a day after he gave the guns back, he returned to the woman's home, forced his way in and demanded a key to the gun safe, according to investigators.
He then stole a Colt .45 while the constituent hid in her bedroom, investigators said. That gun was also later returned to the woman.
Tran issued a statement Friday evening, calling the allegations "untrue and categorically false." His lawyer did not immediately respond to a request for comment.
Investigators say Tran allegedly gave conflicting stories and reasons for taking the guns when interviewed by police, including denying any type of firearm sale, later producing a sales contract for the weapons, and disparaging the constituent's mental capacity before demanding a written apology from her.
Copyright AP - Associated Press