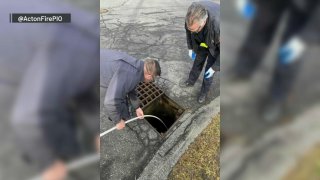 Firefighters saved a young girl's birthday on Thursday in Acton, Massachusetts, rescuing something important she'd dropped into a storm drain.
No, it wasn't a person the firefighters retrieved from a storm drain -- it was a doll she'd accidentally dropped in there while waiting for the school bus, the department's representative said on social media.
They shared an image of first responders sending a tube into the drain.
There's no word on what the birthday girl's reaction was, but the fire department in East Litchfield, Connecticut, jumped into the comments on Instagram to say, "Great job!"