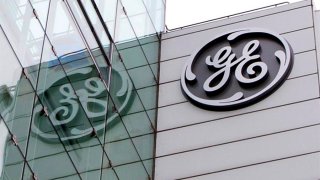 Employees of General Electric in Massachusetts held a protest Wednesday, joining similar demonstrations around the country demanding the conglomerate create safer working conditions amid the coronavirus pandemic.
The protest, which involved members of the Industrial Division of the Communications Workers of America Local 20, took place at the GE aviation facility in Lynn.
The union earlier said workers would protest inside the plant during their lunch breaks. Local 201 instructed members to stay six feet apart during the protest and to stay home if they are not feeling well.
Union members also protested at facilities in New York, Virginia and Pennsylvania Wednesday.
"We make 1st class engines. We demand 1st class safety," the union said in a statement.
The union is also demanding the company use its highly-skilled workforce and manufacturing capacity to accelerate the production of ventilators for coronavirus patients and protect jobs.
The company recently announced it was cutting 10% of its aviation workforce because of the rapid decline in air travel.
Last week, the group demanded a two-week shutdown after several workers were diagnosed with COVID-19. The union said GE had not provided workers with personal protective equipment or sanitizer and several areas in facilities lack social distancing measures.
GE officials say the company has spent 10 times its annual cleaning budget and is investing in more cleaning staff, more frequent cleaning and more supplies. It has also put zoning protocols to improve social distancing in place.
Local
In-depth news coverage of the Greater Boston Area.
The company has also provided additional 14 days paid sick leave for employees diagnosed with COVID-19, with a presumed COVID-19 diagnosis from a doctor or with prolonged exposure to a COVID-19 positive person, according to officials.
Local 201's request for a paid shut down was rejected by GE, says the union.
"Our Lynn facility is considered essential by Homeland Security because our work provides mission-critical equipment to the U.S. military, and this facility remains focused on aviation production of engines and spare parts for fighter jets and helicopters," wrote GE in a statement. "Separately, GE's healthcare business has already doubled ventilator production and continues to explore additional opportunities to support the fight against COVID-19, prioritizing fast, efficient options to meet this immediate need."