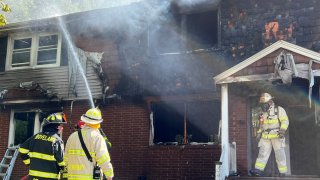 A man is dead after a fire broke out Friday at a home in Groveland, Massachusetts, officials confirm.
The fire tore through a four-unit residential building on Manor Drive. Crews responded around 3 p.m., the office of Massachusetts Fire Marshal Peter Ostroskey said.
Firefighters and police worked together to rescue people who were trapped near the back of the building on the second floor, officials said.
An adult male was pronounced dead after being found in a first-floor apartment. His identity has not been released.
Photos shared by officials showed the building badly charred as firefighters worked to put out the flames. Several agencies from nearby in the Merrimack Valley were called to help.
The cause of the fire is under investigation.