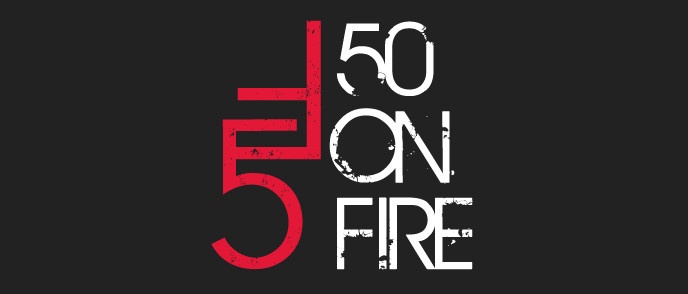 50 on Fire is returning for its 5th year. This is our annual celebration of the 50 Bostonians lighting up the innovation scene. This year, we're hosting all of you the night of November 9 at The Revere Hotel – mark your calendars (make sure to grab your tickets before we sell out).
Here at BostInno, we cover tech, innovation, and anyone shaping our city's future. This includes startups, entrepreneurs, CMOs, VCs, technologists, restauranteurs, Yoga studios, bloggers, social influencers, you name it. Make sure to tell us why your nomination (individual or company) had the most innovative and disruptive year in Boston. We've officially opened up nominations and they are pouring in.
Nomination Process: Do you know an organization or individual setting the Boston scene on Fire? Nominations are open now and will close September 11 at 5pm EST. The 11 categories are:
Technology
Civic
Design
Food & Drink
Retail
Education
Healthcare & Medicine
Investment
Marketing & Advertising
Professional Services
Sport & Fitness
Selection Process: After the nominations close, a panel of BostInno representatives will cull through the submissions to select 150 finalists across the 11 industries. These finalists will be notified, featured on the site, and asked to participate in an exclusive photo shoot. From there, a panel of judges, comprised of industry-specific community experts will vote for the 50 winners.
Local
In-depth news coverage of the Greater Boston Area.
Winners Announcement & Celebration: Winners will be revealed live at 50 on Fire on November 9th at The Revere Hotel via a 15-minute video announcement (no boring speeches allowed). You can check out last year's 50 on Fire video here. Make sure to be in the room for the live announcement and get your tickets now.
Want to align your brand with 50 on Fire? Click here to learn more about available sponsorship opportunities.
Thank you to our 50 on Fire Sponsors!
Copyright Boston - BostInno