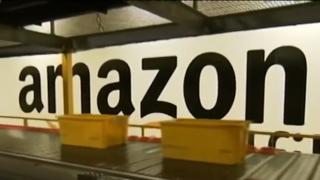 Amazon warehouse workers staged a mass sick-out Friday, calling out of work in protest of the tech giant's handling of the coronavirus crisis.
More than 300 workers from at least 50 facilities signed up to take part, according to Amazon Employees for Climate Justice, which posted a memo on Twitter.
Employees were demanding that Amazon immediately close facilities that report positive cases of the coronavirus and provide testing and two weeks' pay during that time. Workers also wanted paid sick leave and a commitment from their employer not to retaliate against anyone who speaks out about the conditions.
The worker's rights organization specifically referred to recent incidents where fellow employees were fired for speaking out, including a worker at a Staten Island, New York, facility who organized a strike to demand greater protections for employees during the pandemic.
The company has cited a significant step-up in protections for workers implemented earlier this month, including masks and temperature checks for employees as well as more frequent sanitation at their facilities.
A representative for Amazon said that employee participation in the sick-out has been "grossly exaggerated" in the media, and that more than 250,000 people reported to work Thursday, which left the company "grateful and proud."
"The union organizers' claims are also simply false – what's true is that masks, temperature checks, hand sanitizer, increased time off, increased pay, and more are standard across our network because we care deeply about the health and safety of our employees," said the representative, Rachael Lighty. "We encourage anyone to compare the health and safety measures Amazon has taken, and the speed of their implementation, during this crisis with other retailers."
Another Amazon representative said the sick-out would not disrupt service.
Last month, Amazon said it would hire an additional 100,000 workers amid a surge in online orders due to the coronavirus outbreak.